Justo's Cathedral is a sustainable project made with scrap and recycled materials. A place that accepts everyone, men and women, rich and poor, those who believe and those who do not, and a meeting place for different religions.
years dedicated to its construction
meters high, on its highest point
meters long - central floor
meters wide - central floor
cloisters, 1 baptistery, 1 underground crypt
domes. One great 35-meter dome.
more than 2000 stained glasses
An oasis of silence and prayer. For those who suffer. For those who dream of a better world. For those who are alone. For the forgotten of the system. A small field hospital. A solidary house to share. A superhuman project made by the hands of a man.
One of Spain's most prestigious teams in the architecture and structural analysis fields are conducting a study of the Cathedral, using it as an example for their students, and showing them how recycled materials can be used to build a great architectural work. .
The incredible history of
The story of a life dedicated to a colossal work, which began as a chapel and became a Cathedral.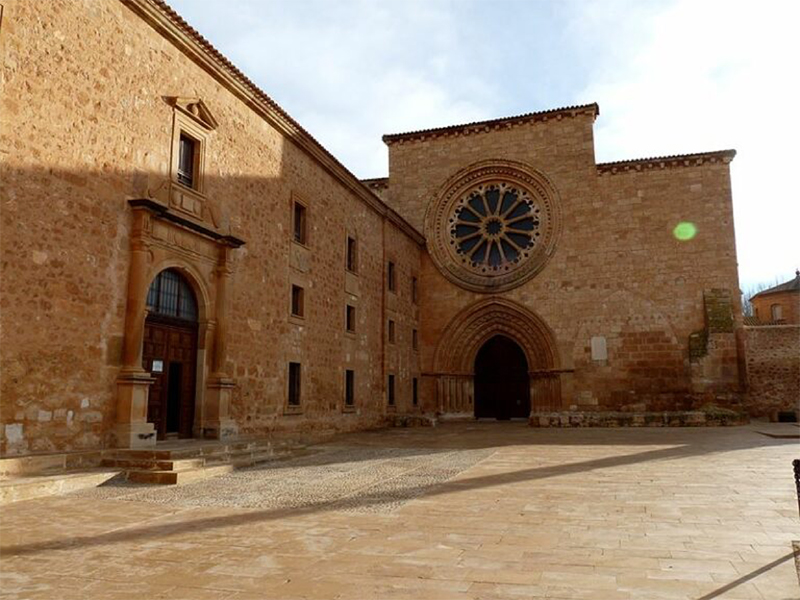 Justo Joins Santa María de Huerta
Justo Gallego, a young, vegetarian and very pious farmer from Mejorada del Campo, after the end of the Spanish Civil War, decides to join the Santa Maria de Huerta monastery in Soria, where he enrolls as postulant to become a monk.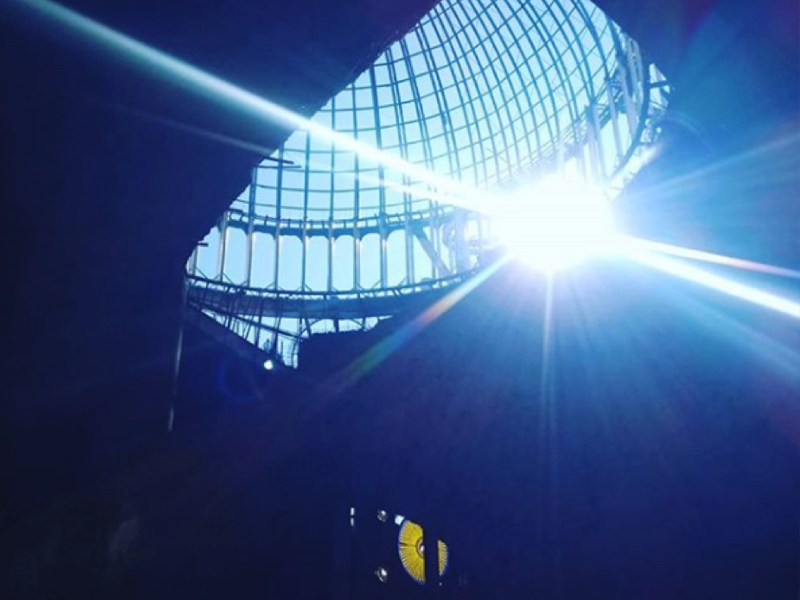 A promise
At age 36, Justo contracts tuberculosis. As monastic life becomes more difficult, Justo decides to leave for the safety of the monastery. Later, he inherits a piece of land in Mejorada del Campo. He promises himself that if he survives the illness, he will build a cathedral in honor of the Virgin Mary.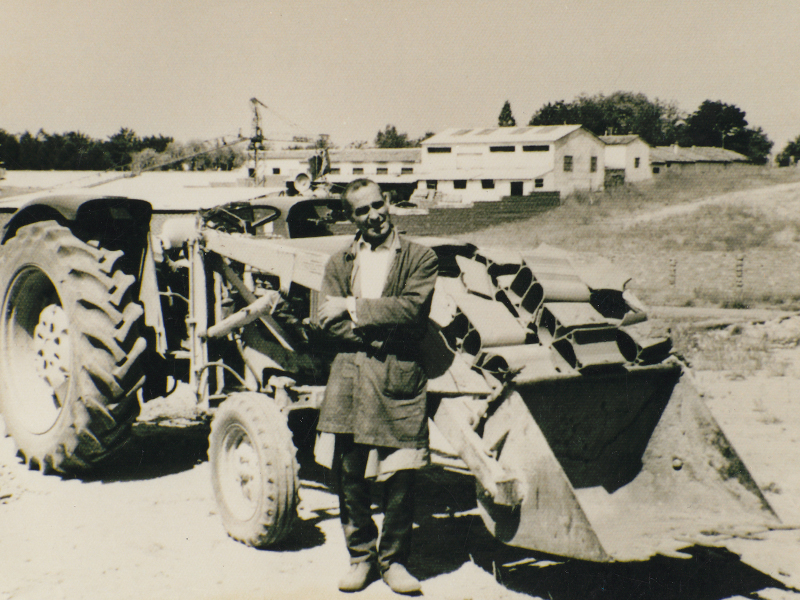 The Beginning
Later on that same year, his health improves, so he starts to level his land to build the cathedral. The first stone is set on October 12th, 1961.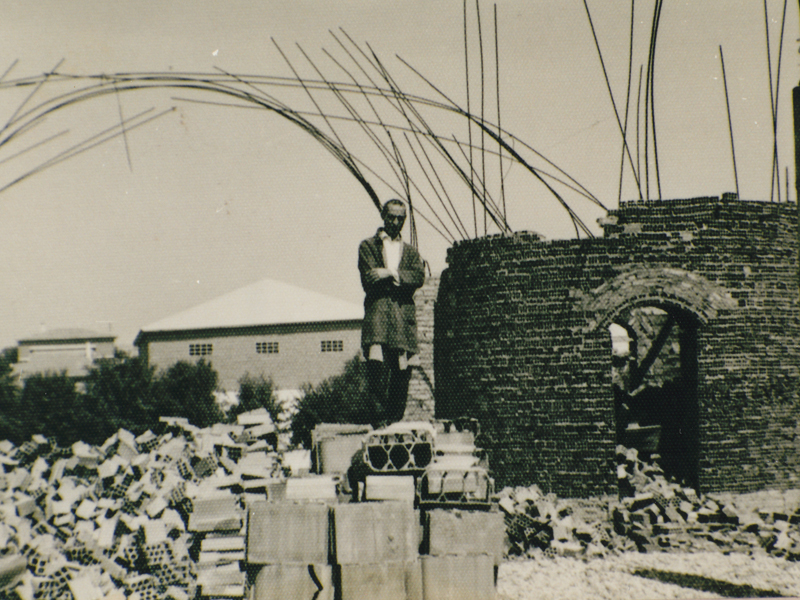 Building guided by inspiration
Justo begins to build the cathedral without a design plan. He is mostly inspired by the Roman architectural style, which he believes to represent the finest of architectural styles. He also draws inspiration from Spanish fortresses, Saint Peter's Cathedral in Rome, and neoclassical architecture.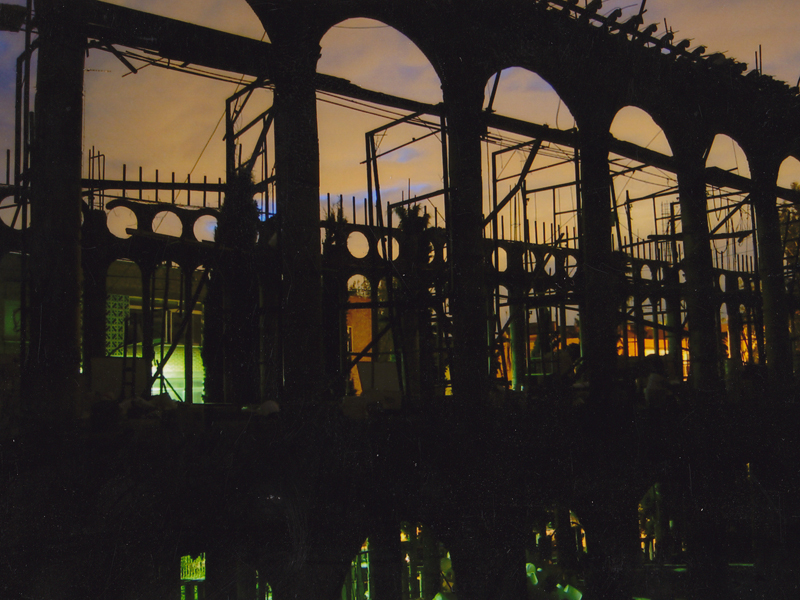 No experience in architecture
Justo has no experience in construction work nor in architecture. His design plans are clearly drawn in his mind, and he follows them religiously through the years. He learns as he builds and by reading books on churches and medieval castles, mostly written in Latin.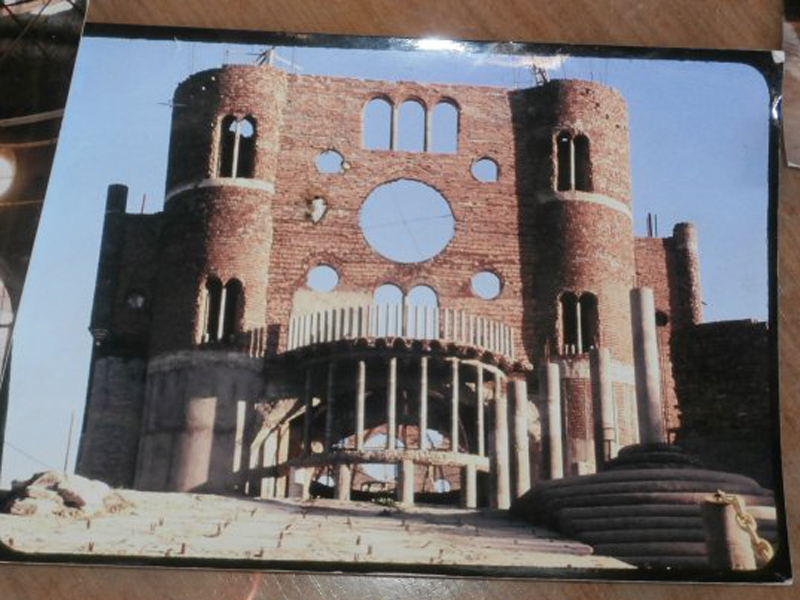 The Cathedral arises
Some years later, the building starts to take shape. Justo works mainly on his own, using recycled materials and developing impressive, unique building techniques. Sporadically, he is helped by his family or he hires help when he can afford it.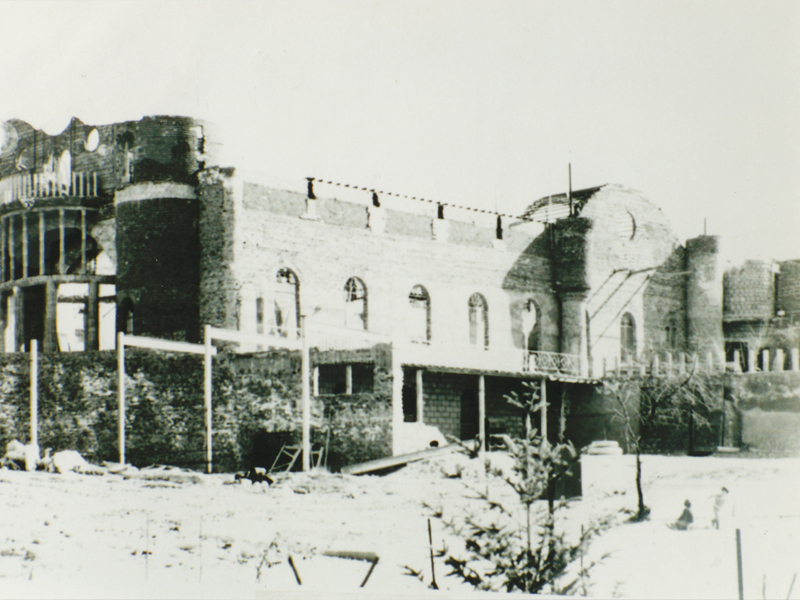 Perimetral view
Another old photo where we can see the perimetral walls that were finished in the 80s.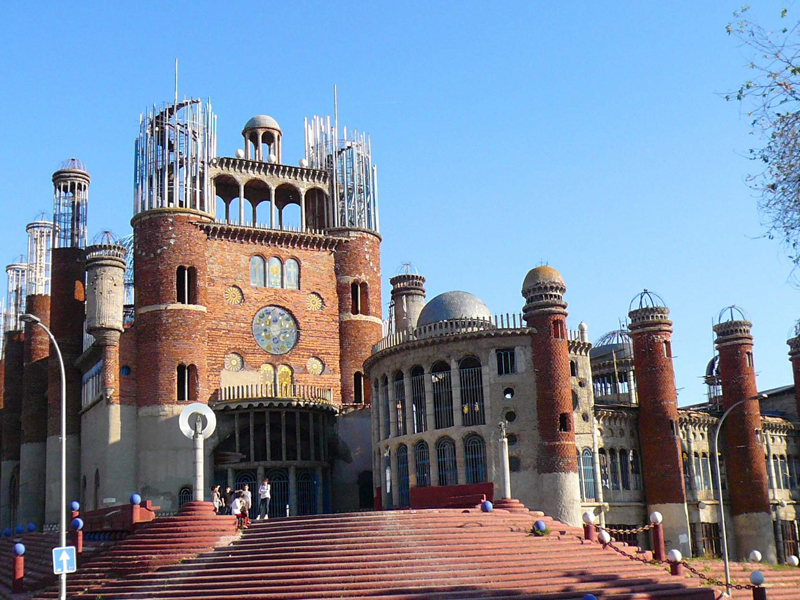 Fully formed
After many years, the cathedral has a complete form. Justo builds mainly on his own using all kinds of improvised tools, such as rubber tires and chemical waste donated by a Chinese company. Nearby factories in Mejorada del Campo provide him with materials, and he also receives some donations.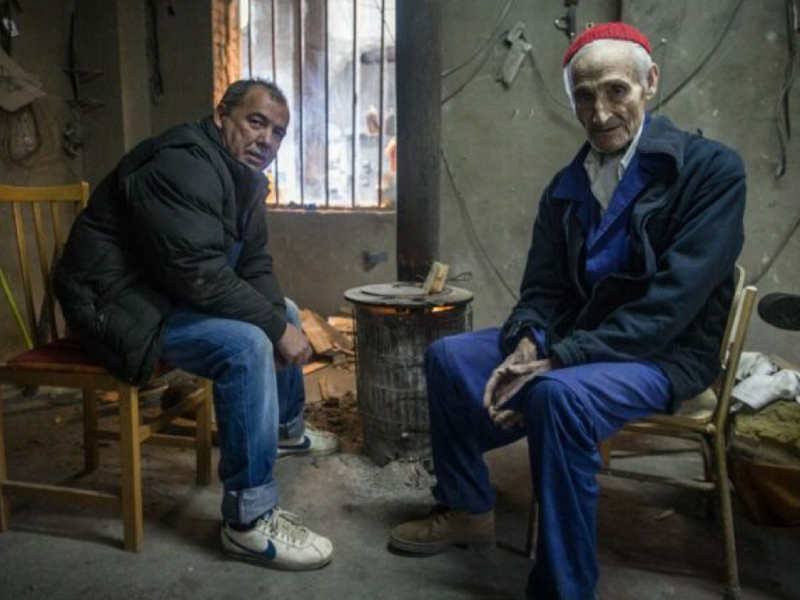 Ángel joins Justo
Around 1998, Ángel, his main assistant, joins the work. The endeavor receives a massive impulse. Ángel works in the windows, decoration and floors, while Justo continues working in the towers and the dome.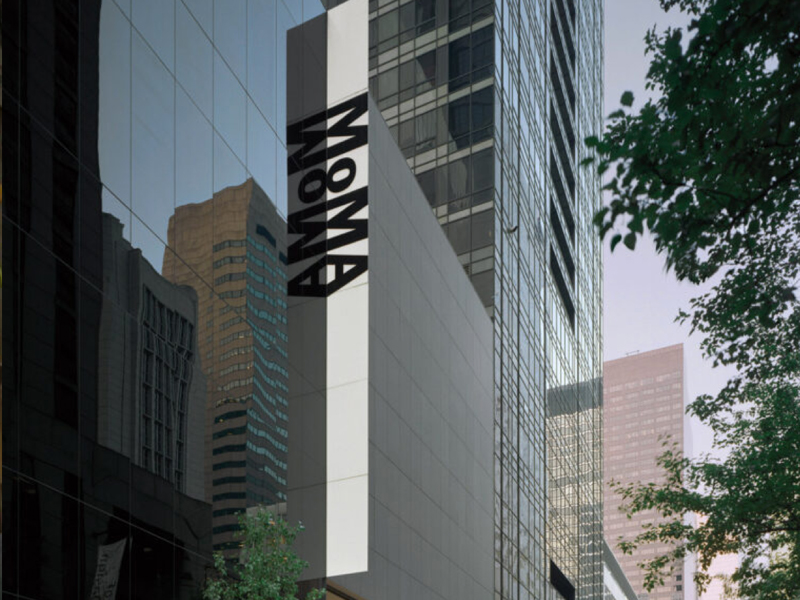 Invitation to the Real Royal Trip
In 2004, Justo catches international attention for the first time, and he is invited to participate in an exhibition in the Real Royal Trip at the MoMA in New York.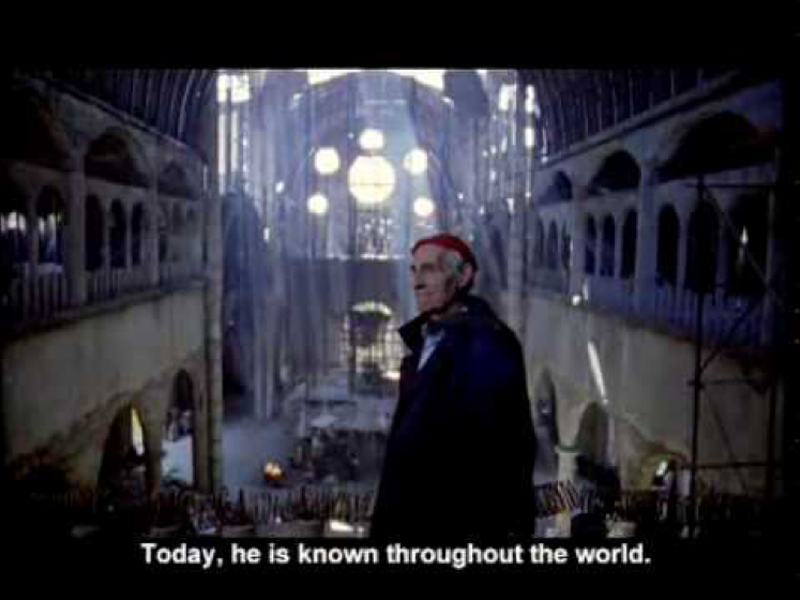 Contacted by Aquarius
In 2005, the Cathedral starts to draw worldwide attention. Justo is contacted by Aquarius, a Spanish soft drinks company, for his participation in an ad campaign that will tell his story. In return, he will get more funds to help in the construction of his cathedral. The campaign is very popular in Spain, though many people think it is a publicity stunt. Little by little people start to realize that it is a real story, and they begin to visit Mejorada del Campo to see this incredible work by themselves.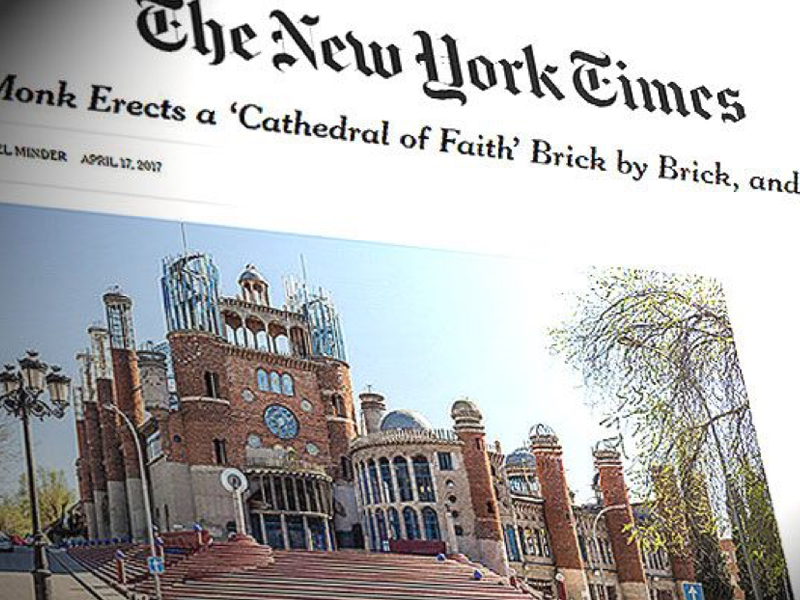 The Cathedral in the New York Times
Justo's work appears in the New York Times. Justo's Cathedral is becoming more and more famous around the world, and the number of visitors are increasing.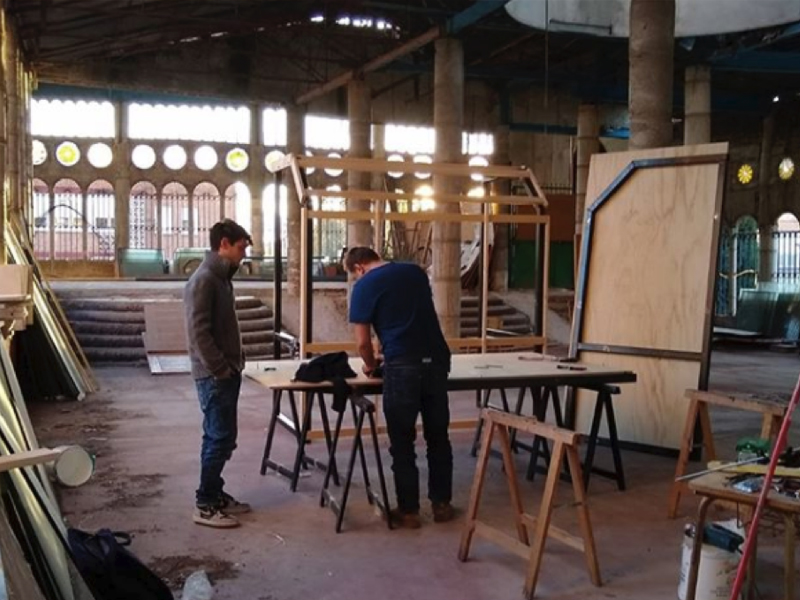 International aid from several organizations
From 2018, several companies and organizations start to collaborate with the cathedral to raise funds. Among them ScanAndMake, a UK-based start up, that would later on launch the "One Man Cathedral" campaign.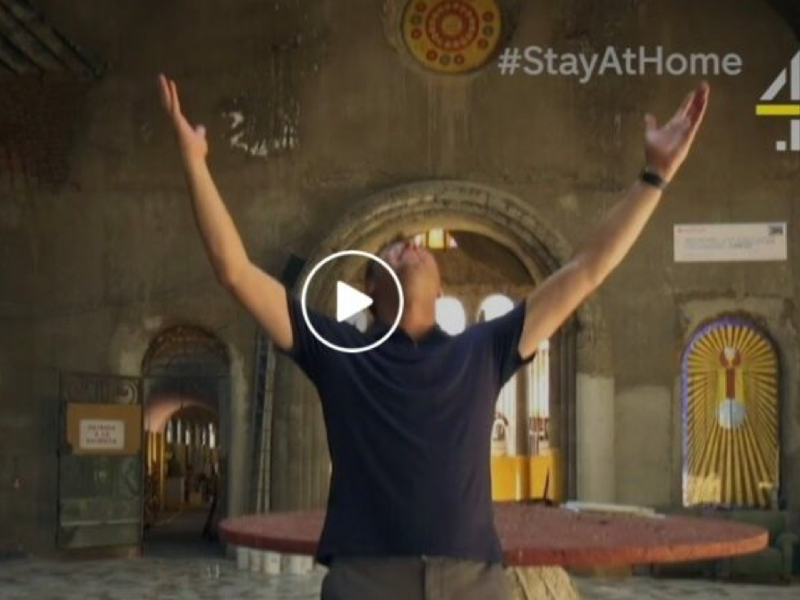 The cathedral gets a special TV episode
In February 2019, famous British architect George Clarke presents a special episode about the cathedral in his programme "Amazing Spaces" in Channel 4. Justo's story appears in prime-time TV in the United Kingdom.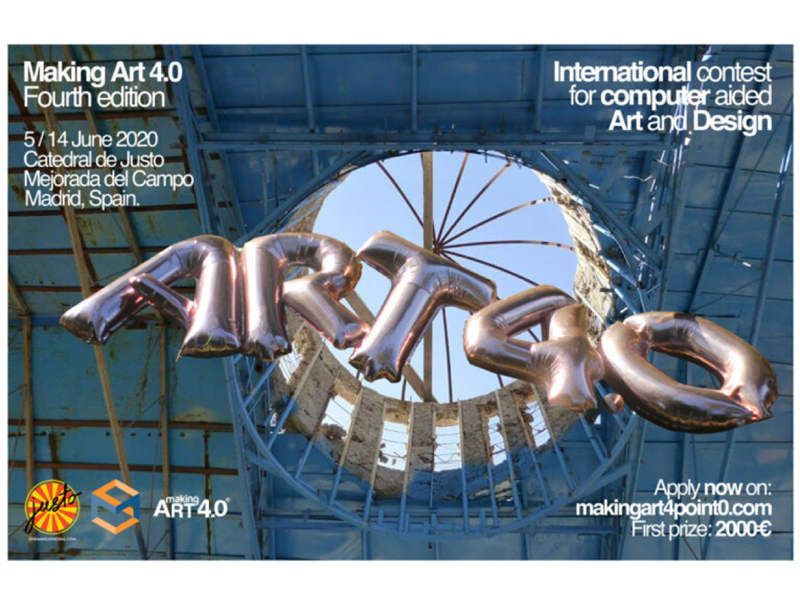 Art 4.0
In 2020, the Fourth Edition of Making Art 4.0 takes place in the Cathedral - attracting more interest and visitors.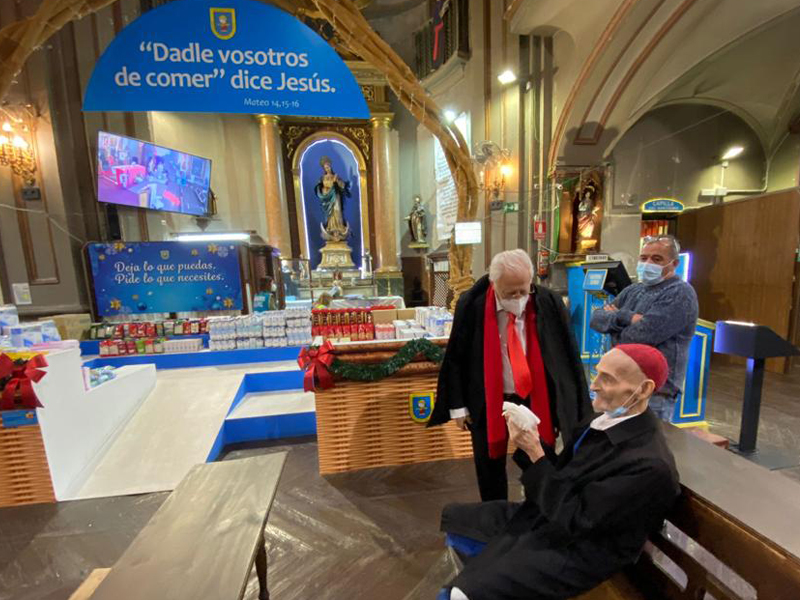 The Cathedral is donated to Mensajeros de la Paz
Shortly before his death, Justo donates the cathedral to Mensajeros de la Paz. His wish is for the work to be finished and for it to become a meeting place for everyone.
His work is considered one of the best of the contemporary era. He is admired and respected by architects and experts.
Justo Gallego Martínez was born in Mejorada del Campo on September 20th, 1925. He lost his father at age 12 and from a very young age he helped his mother, Anastasia, working the field. 
His education was interrupted by the Spanish Civil War (1936-39). At that time, he nourished himself with books on castles and cathedrals.
He developed a great religious faith at a very early age.
For more than 60 years, Justo worked on his own in an incredible architectural work, using only scrap materials from a nearby industrial zone. 
He wasn't an architect, nor had any building experience. For Justo it «is an innate thing, a Gift». Christ's Gospels is his guide. 
He was called crazy. He has always done what he wanted and has had such a strength that nobody has stopped him.
The Mensajeros de la Paz Association (Messengers of Peace) is a non-governmental organization, declared of public utility, that works at a national and international level. It has been awarded the Prince of Asturias Award for Concord, among other distinctions. Based in Madrid, Spain, we work in over 50 countries, promoting the human and social development of society's most underprivileged populations and adapting to all the different social realities.
Mensajeros de la Paz Association is the original entity founded by Padre Ángel. It currently serves as the central office for the social group of organizations founded by him. This social group also comprises entities of the Autonomous Communities, local offices in different countries and the Edad Dorada (Golden Age) Association as well as the Mensajeros de la Paz Foundation.
Thousands of tourists, the media and experts from all over the world have traveled to Mejorada del Campo to get to know his work.
Justo Gallego's unreachable dream became true, and now Mensajeros de la Paz wants to finish it following his wish.
You can collaborate financially so that we can finish the work at the Cathedral by making a bank transfer to the following account:
Banco Santander 
ES59 0049 0001 5224 1010 1010
or with credit card:
Help us finish the Cathedral!
Through a financial donation: your company can help cover the cost of materials and labor by making a donation to the following account:
Banco Santander
ES59 0049 0001 5224 1010 1010
Through an in-kind donation: your company can donate materials that are needed for the construction work at the Cathedral. If you are interested in collaborating like this, write to us at catedraljusto@mensajerosdelapaz.com
For more information on these and other ways of collaboration, write to us at catedraljusto@mensajerosdelapaz.com
Do you want to know all the kinds of work Mensajeros de la Paz does with companies? 2021 © Mensajeros de la Paz
Get information about Mensajeros de la Paz